Click on "Comments" above to leave a message
ROME IN THE 1960's

OR

NOT THE BRIGHTEST BULB ON THE TREE

Rome, The Eternal City

Of all the places I've been, my favorite city is still Rome. Perhaps because I lived there, know my way around, and have many wonderful memories of falling in love and getting married. The smog can be bad, it's miserably hot in the summer, the traffic is a disaster…and I love it.

So, I want to share with you the Rome I knew. Not so much the famous parts, but the everyday things about living in the Eternal City in the mid-1960s.

After graduating from UC Berkeley in 1963, I went to Rome to study at the University of Rome. There I met the man I married (an Italian policeman) on my first day in Rome at the Fountain of Love in Piazza Esedra (also called Piazza Della Republica).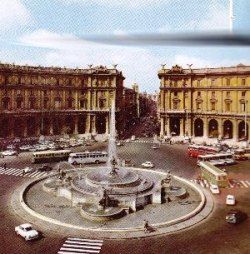 Piazza Esedra (Piazza della Republica) Ann and Luciano at the Fountain of Love

I'd just arrived by train from London and was looking for the American Bar on Via Nazionale so I could buy a hamburger. In the summer, Italians sat around the fountains in the afternoon when it was hot. The only cool place. I sat down next to Luciano on the rim of the fountain, and the rest is history. I'm not sure how we communicated. He spoke a little English, I spoke a few words in Italian. He took me to dinner and to EUR. Things got a little friendly on the steps of the Palazzo Della Civitá, but it was dark by then…thank goodness.

Under other circumstances, I probably would have slapped him and taken off, but I had no Italian money and didn't know where I was or how to get to my pensione. Well, I was young, inexperienced, and not the brightest bulb on the tree. Although he did win my heart, and we got married in a civil ceremony at City Hall (Campidolio) six months later.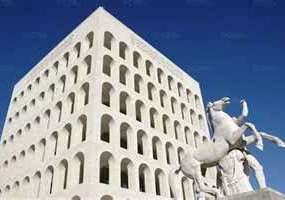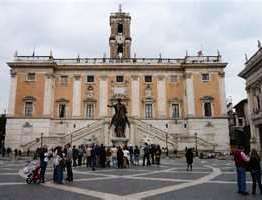 Palazzo Della Civitá The Campidolio (City Hall)

The Pensione

My first residence was a rooming house (pensione) on Via Del Corso. I shared a room with two other girls from California whom I met in my Italian class at the language school. The pensione, run by a husband and wife with several children, catered to students. Via Del Corso was a busy street with lots of traffic day and night. Eventually, I got used to the constant noise and would wake up in the middle of the night when there was no traffic for a minute or three. The quiet never lasted more than that.

We had a sink and bidet in our room but had to use the toilet down the hall. The owners acted shocked that we washed our clothes in the bidet, but they were pretty strange, too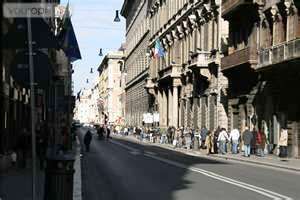 Via Del Corso
Although the landlady worked hard, her husband spent his entire day lounging on a couch—in his pajamas—just inside the front door, smoking cigarettes and dropping the butts on the tile floor. (All building had tile, terrazzo, or marble floors.) One night, when we came home late, we found him on the floor in front of the water closet staring at whomever was inside through a tiny hole in the door. When we checked, all the toilets and rooms had unobtrusive little holes in the doors, right up again the corner of the molding around the panels.

It got to be a game with us. When we left for school in the morning, we'd stuff something in the little hole—gum, waded up paper, whatever we had. That evening the hole would be open again, so we'd try something else. When it mattered, we'd just hang a towel over the hole. I think he was glad when we moved out.

Rooming with a Family

After that, I rented a room with a Sicilian family (the Vinci's) near Piazza Fiume. Water heaters were electric and very expensive to run, so the family never turned theirs on. I had a sink in my room, but no hot water. To take a bath, I had to give the Signora Vinci a day's notice and the cost was around $2 in lira. However, every time I asked to take a bath, the lady of the house had some reason she couldn't turn on the water heater.

During the six months I lived there, I never got to take a bath. I bathed once a week at the train station or Luciano's (he rented a room with a family, also). The rest of the time I washed in cold water. And in the winter it was really cold in Rome. For the first time in my life I had to wear wool underwear, a novelty for a southern California girl. Finally I splurged on a hot plate and a pot, then hid them under the bed so I could have hot water to wash with. You can keep quite clean that way, but it's not very convenient. I'm not sure if the landlady ever found out. She didn't clean the room; I did.

When I got married and we rented a small apartment, I was expected to strip down the bed every morning and hang out the sheets to air all day. All double beds were composed of two beds, slightly larger than twins, pushed together. The sheets were huge (bigger than king sized) and very difficult to wash by hand in the bathtub, which is where you did your laundry. It took about four weeks for everything we owned to turn from white to grey. There were a handful of Laundromats in Rome in the 60's, one not too far from our apartment, but I had to carry everything by hand. No car. Still, I refused to strip down the beds every day; also I wouldn't iron my husband's underwear, either. He was so disappointed in me, but he got used to it.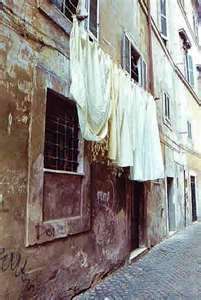 Most people shopped for groceries daily because they didn't have refrigerators. Those who did had quite small ones. It was customary to shop after work, prepare dinner, feed the children and put them to bed before the adults sat down at the table at around 9 pm. It made for a long day. Six o'clock came very early.

When a working woman shopped, it was either at 5 to 6 am or 8 to 9 pm. If one didn't have the luxury of shopping at the morning farmers market, you shopped in the evening…but not at a grocery store. You went from shop to shop with your plastic net bag which expanded as you filled it with parcels wrapped in newspaper. First, the Alimentari for cheese, salami, pasta, and other general supplies. Then to the Panificio for bread.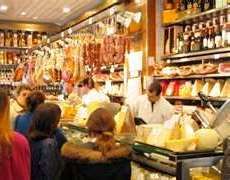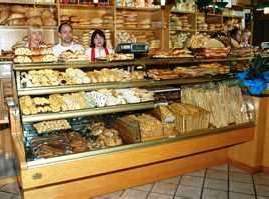 Meat was hung for display at the butcher shop. In Rome, you rarely saw meat hanging outside under the awning, but that was still common in smaller cities and towns.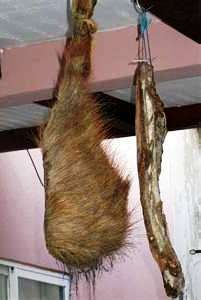 I always went to the shop that sold wine and olive oil last, since those items were the heaviest to carry. If you needed salt or postage stamps, you had to go to a tobacco shop. By law, only tobacco stores were franchised by the government to sell those items.

The Italian paper money in the 1960s was still the old style and were quite large. I don't know the exact measurement, but I'd guess about 5" x 9". I used to get paid (in cash) in a fat 9 x 12 envelope. You didn't carry much cash around.

Snow Covered Monuments

The second winter I lived there, it snowed in Rome. It had been a long time since that happened and everyone went nuts. The buses stopped running, no one went to work for at least two days, and it was general chaos. Ancient monuments covered in snow were amazing sights.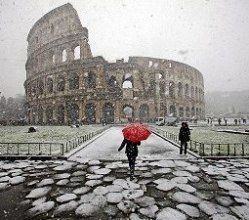 The Roman Forum in the snow The Colosseum

One of my favorite parts of winter was buying a small bag of roasted chestnuts from the street vendors on the way to and from work.



I remember so many different things about everyday life in Rome close to fifty years ago. Some of them inspire incidents and background for my books. I can easily find photos of some things on the Internet, others now seem to be lost forever and live only in memories. It's wise to take the time to enjoy the little things of everyday living while you can. Remember: It's the journey that counts.
□

For Part II - Working in Rome in the Sixties, go to the Romance Books R Us Blog on April 10 at: http://romancebooksrus.blogspot.com/